From a documentary piece to masterpiece
The French emperor's visit to Antwerp was an important moment for both the city on the Scheldt and Bonaparte himself. Napoleon had great plans for Antwerp. He wanted to build a modern port that would serve a leading role within the French empire, both in terms of merchant shipping and for a formidable naval force.
For this festive event, the Antwerp painter Mattheus Ignatius van Bree (1773-1839) was commissioned by the city council to design several floats, in addition to statues and triumphal arches that decorated the Town Hall. In 1801, Van Bree had already painted two allegories glorifying Bonaparte.
During this visit, Bonaparte's wife Joséphine de Beauharnais was so charmed by Van Bree's works and verbally ordered a painting to immortalise this event. The official order was only placed in 1807 by Dominique Vivant Denon, the then director of the Musée Napoléon. Van Bree received 9,000 francs for this commission.
Mattheus Ignatius van Bree was extremely meticulous in the preparation of the canvas: he first created portraits of more than a hundred people he wished to depict in the painting, including the regional administrators of the department, the Antwerp city council and a number of high-ranking French officers. He also drew the likenesses of commercially successful individuals in Antwerp, such as the German merchant Georg Kreglinger. All these drawings are now kept in the Cabinet des Desseins of the Louvre Museum.
Van Bree then painted two identical works, but each in a different format. The small format (77 x 126 cm) belongs to the MAS collection (inventory number AS.1959.097). The large oil painting hangs in the Palace of Versailles.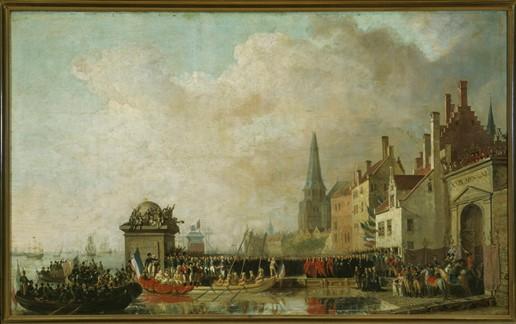 Bree, Mattheus Ignatius van (painter), Study for the painting 'Entry of Bonaparte, as First Consul, into Antwerp on 18th July 1803', AS.1959.097, Collection City of Antwerp, MAS, photo: Bart Huysmans & Michel Wuyts