The MAS has approximately 140 volunteers. They help our employees keep the museum operational, day in and day out.
Volunteers
are insured;
get an expense allowance;
are our first ambassadors and therefore are invited to exhibition previews;
in addition to the daily appreciation of colleagues, a big volunteers party is thrown once a year.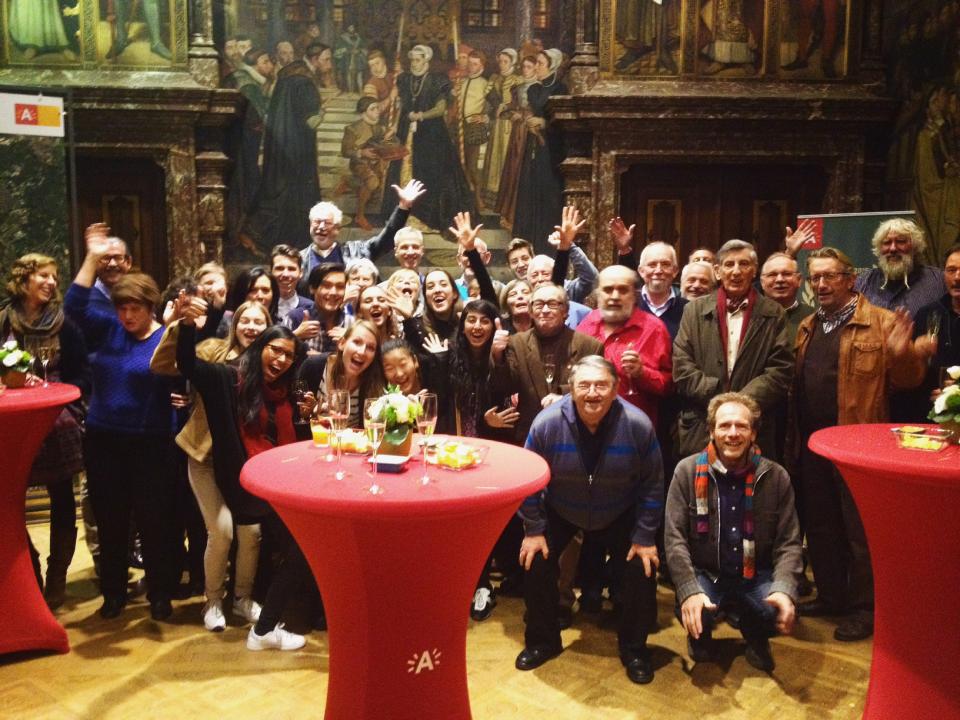 Reception of volunteers at the town hall, 2015
MAS Crewmember in Young Hands
Young people know what other young people think about and expect from a museum. That's why the MAS came up with a separate youth concept: MAS in Young Hands. A team of 12 young men and women actively participate in the museum's operation.
MAS in Young Hands has been running since the museum opened. They organise exhibitions, evening activities and events like museum night and (MAS)ked. They also develop new products like the exhibtion 'Instinct'. The main goal is to ensure a full-fledged youth programme within the MAS. Feel like participating? Contact mijh@antwerpen.be. Follow the news of MAS in Jonge Handen on Facebook and Instagram. 
Hosts
At weekends, our warm-hearted hosts and hostesses welcome visitors to the building. They show you the way and assist you where needed. At large public events such as Museum Night, they go the extra mile.
Sleuths and shop scouts
It is difficult to secure large collectibles from the recent past. They are hidden in photos and utensils and are accompanied by short and long stories. The MAS regularly establishes trajectories to help unlock a certain piece of heritage from Antwerp's history.
We had 'sleuths' who looked for Moroccan heritage in the city. 'Shop scouts' were also active; their job was to map the history of almost forgotten shops from 1950 to the present. There was also a 'souvenir campaign' related to the temporary exhibition Sacred Places, Sacred Books.
There are no new projects at the moment. Sign up for our newsletter and you'll be the first to hear about new projects.